Dr Luauna Stines is the President and Founder of A Touch From Above, LSM Inc. Her goal is to reach the world for Jesus. In ministry for over 30 years, received an honorary doctorate from the Interdenominational Ministries International Bible College & Seminary; a District Ministerial License from LIFE Bible College of the International Church of the Foursquare Gospel. She also holds an education certificate in Ministry Training and Development from Oral Roberts University.
Dr. Stines is the founder of Victorious Homes for Men and Women, a discipleship program which has had over 500 men and women come through the program for over 20 years in Colorado, Oregon and California.
Dr. Stines is a preacher, evangelist, and Pastors a Church in San Diego, CA. She has preached the gospel throughout the world: Reaching into many countries such as South Korea; Australia; England; Germany; Mexico; Malawi, Central Africa; not to mention throughout the United States of America.
Her gifting includes a television presence, which touches the hearts of thousands with her trademark, "Don't Touch That Channel!" A Touch From Above television program airs twice a week in San Diego California.
How did I get here? Only by the grace of God. I was raised in a home where there was hurt, confusion, and rejection. Born in the state of Colorado in a little country town called Rocky Ford. I lived for a very short time in Ordway, Colorado Springs, Pueblo, and a few years in Denver Colorado.
I never really knew my father. I think I saw him perhaps three times in my life, once when I was so young I don't remember much about him, and another time when I was in my early twenties.
My mother was married and divorced eight times, not including all her boyfriends inbetween. We had stepfather after stepfather. My mother was young and had a hard time raising four girls, so she placed my sister and I in an orphanage.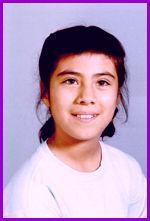 From that point my life, was like a top spinning out of control. I was in and out of detention centers starting from the age of eleven. Filled with so much rejection, hurt, and hating who I was. I was like a time bomb ready to explode. By the time I was twelve I was already in Zeb Pike Detention Center, and at thirteen I was locked up in another detention center called Morrison in Denver Colorado.
I fought all the time in and out of school. I had no control of my temper. Without Jesus, I might have been dead. I am very grateful for God's mercy.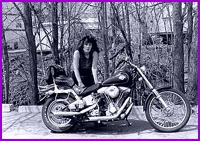 If God can change me, He can help, and will change anyone.
My mother was very beautiful; at the age of 55 she turned heads. Her beauty was her downfall, inside; she was filled with so much hurt. I'm not sure what happened in her life as a young girl that made her feel the way she did, but it affected all four girls.
My life only grew worse as I got older, not knowing how to love or care for someone. In a forced marriage at the age of fifteen. I was a little girl, trying to be a woman, which didn't work. I was extremely broken and unhappy. Not knowing how to love, I closed off more and more. I was filled with so much confusion inside. One day I received a phone call telling me my husband was killed. I was two months pregnant and already had a little boy two years old. I found myself again rejected, hurting and filled with anger. I was looking for love, yet never finding it. Without the Lord, everyone searches for something or someone, to fill the void. Only Jesus can fill the void of the heart.
One day, a young lady took time out of her life and shared the gospel message of Jesus with me. I was coming out of a 7-11 store with a cigarette in one hand and a gram of cocaine in my pocket, the gospel message was planted in my heart. I did not receive Jesus that day, but about seven or eight months later, those words she told me outside that 7/11 store echoed in my heart, "Jesus loves you and has a plan for your life." I walked into a little church for the first time on a Sunday morning. That day Jesus became my Lord and Savior. I share more in my book, "A Mother's Story.
I do not blame my mother for all that happened. I truly forgave her. I loved her dearly; she went on to be with the Lord on November 9, 1999. Before she died, I had the wonderful opportunity to share Jesus with her; she gave her heart to the Lord two days before she died! I remember that day so well! It was the day our TV program, A Touch From Above was going to start airing in Colorado Springs, Colorado for the first time. I remember laughing with her on the phone two days before, telling her, "Bring all the people you know into your hospital room and tell them, this is my daughter, the wild woman preacher!" But my mother died the morning our program was going to air.
One day my mother and I shall laugh, and rejoice together with our Lord and Savior. I am truly a miracle of God's grace; an orphan, single mom, a murdered husband, and now a minister of the gospel of Jesus Christ. It's a wonderful privilege to preach to millions of hurting and broken people through television and radio. As I share my story today, "God's Grace is Amazing." I continue to pray, "Holy Spirit, open more doors for me to share the love and grace of Jesus.
My goal is to preach and reach into every home around the world. My story is needed in this age, with so many broken homes, children with broken hearts, and single mothers and fathers in need of hope. I'm Saved to save. Jesus is the answer! Jesus broke the curse of generations from my life and my children. God is so amazing! Both my children, now grown love the Lord with all their heart. My daughter labors with me in ministry today. I am so proud of them!
Nothing is too hard for the Lord, He will help you through every trial!
Today by God's love & grace, I pastor a church A Touch From Above Prayer Mountain in Ramona, CA. 16145 Hwy 67 Ramona, Ca 92065 Join us for a 10 AM church Service.
Join me Wednesday Facebook Live @DrLuauna Stines 7 pm (Pacific Time)
I also minister on television twice a week. and you can turn on your radio: Sunday morning at 8 a.m. Radio – KPRZ 1210 am. Or Listen live at kprz.com (Pacific Time) and don't forget to take time out and watch my Television program, aired twice a week in San Diego, CA, and now can be seen on You tube: Dr. Luauna Stines.
God bless you, and thank you for visiting my website. Please know you are Special! To book Dr. Luauna Stines for your church, call (760) 315-1967 or write or email: Dr. Luauna Stines, P.O. Box 2800 Ramona, CA 92065
Messages By Dr. Luauna Stines: