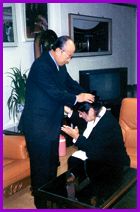 The Picture to the left, is Dr. Cho, praying for me, Dr. Luauna Stines to have the strength to build a Prayer Mountain in the United States of America. A place set aside JUST for God's people to pray. Dr. Cho prayed for God's anointing and favor to come upon my life to complete the task. To trust, believe, and have faith to see thousands of God's people set aside time to pray for America. When America is in it's greatest need of prayer. Prayer Mountain is a special place to come fast and pray. Now by God's grace 25 acres in Ramona, CA, and the building has started. Little by little God's people are coming up to A Touch From Above -Prayer Mountain.
What a wonderful privilege to have been a part of Dr. Cho's Christian Church in Seoul, Korea. Dr. Cho is a very humble man; I can see why the Lord chose him. Allowing the work of God in Korea to grow to the largest Christian church in the world with over 850,000 members. Not just a church building, my friend, but seven services on a Sunday, all filled with people ready to hear from the Lord.
Many years back the Lord opened the door for me to preach in Korea. As I traveled around to over thirty different churches, preaching almost every night. Two times on a Friday, in two different churches a night, each church was filled with people ready for a Friday night prayer meeting. What an eye opener! Every church was packed with hundreds and thousands of people for prayer. The Holy Spirit moving in such power.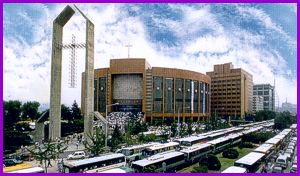 The Yoido church on Sunday mornings, buses line up coming from all different locations in Seoul, Korea to attend the service. Ushers working out on the sidewalks, directing the traffic and helping the people as far as one half mile away. When you get to the front door of the church, walking through thousands and thousands of people to find a seat is something you really have to experience. No matter how I try to describe it, you will never be able to understand until you have been there.
I lived in Seoul, Korea for a while, I desired to learn. I saw, firsthand the church in Seoul, Korea, experiencing something different than most American churches. I speak this not to anger you, but to stir up your heart for prayer in the USA. I traveled around Korea; each church having a great move of God. People getting saved everyday! Many people say, "That's because Korea is a third world country." My friend, Korea, is like being in downtown New York City. Korea is having a great move of God, because they have not forgotten the purpose of the cross. (TO WIN THE LOST)
Second day in Korea, a young Korean woman stopped me to share Jesus, as I was walking out of my hotel. I said, "Yes, I know Jesus!" She went one step further; "Good!" She said, "I will pick you up for church tomorrow." Sunday morning she came to my hotel, I stepped outside, she was parked in front in her new Mercedes Benz; she was so excited to take me to her church. I had not yet shared with her I was a minister. Later, I found out she was a Home Church Leader; she was working for the Lord the day she met me. She said, "I share everyday about Jesus, many people do not know Jesus. They go to church, but are not filled with Holy Spirit. I learned English so I can speak to Americans about Jesus." She became a good friend.
Later, I was asked to minister in a new church, ready to labor, I said, "Yes! I would love to minister." I would need to fly to another side of Korea, to a place called Pusan. The flight took two hours. When we arrived about six pastors met us at the airport. My good friend a faithful servant, Jill came along and my interpreter. We drove awhile, then arriving in front of a 15 story beautiful building. It looked like it was made out of marble. It was Wednesday, just before noon; I figured the church must use one of the floors for service. What a nice building, I thought; to my surprise they asked if I would mind preaching for a small group at noontime. Every Wednesday they had a church service at noon, "No problem," I said, "I would be honored. "Good!" They said, "Service starts in ten minutes, hurry let's go." Talk about being ready in season and out of season! I was taken in through a back stairway, then out on the platform. I tried not to look too surprised, as I looked out and saw almost 5000 people.
God is the God of Korea, as He is the God of America! I believe for a great move of the Holy Spirit. I know it will happen! Prayer was and is the key to this great move of God in Korea. I want to see the Lord move in the USA. It will take a price, a price of prayer. Pastors, Please Pray!
I was invited to a Morning Prayer service at the big church (Yoido), with my friend Jill, and interpreter. As we entered the main building at 5:00 am, the building was filled with people for prayer there were 8,000-10,000 people. Pastor Lee, said, "Come on Pastor Luauna, let's go to pastor's prayer meeting." As we entered into another room down the hall from the main building, the room was big, the lights were dim. The people were praying with such urgency! The room was filled with pastors everywhere; some were sitting in chairs, some sitting on the floor. Some curled up on their knees, weeping and crying out for the Lord to move in power, I was stunned, paralyzed.
As my eyes became adjusted to the dim light of the room, I could see tears running down the faces of hundreds of these pastors, as they were praying. I could not help it, tears swelled up in my eyes, I found a little corner open and sat and watched as they prayed for hours. Then the Holy Spirit spoke to my heart. "This is why many are getting saved." I began to weep and cry out to God. I repented for our nation, and all excuses we make for not having revival. At one time we sent young missionaries to touch Korea. As the prayer, continued on I would hear young pastors cry out for different states of the US, crying out for New York, another cried out for California. On and on, state after state, nation after nation on their hearts as pastors cried out in prayer, it was a sight!
Finishing our three-hour prayer meeting; we then went to the dining room to eat breakfast. My friend introduced me to many pastors. I thanked them for praying for my nation, they looked surprised. And said, "We are thankful that America sent missionaries to reach our once Buddhist nation." But now in Korea Christianity is the number one, fastest growing religion.
I thank God for the young man, who believed God, and prayed. Dr. Cho is still that man of prayer, now older, and very humble. He prays, and believes God for his whole nation to believe in Jesus.
I cannot express how this man of God, and the church in Korea has helped me to see all things are possible with God. This man who started out with faith to believe God with a vision, a tent with holes, and nothing in their pockets, but a broken, war torn country. Dr. Cho would rise above the circumstance, trusting God, who is able to give the strength and tenacity to believe for GREAT things. If we will believe God for great things, we will then increase our faith through prayer.
As I returned from Seoul, Korea understanding in my heart we need a place for people to pray, to build a Prayer Mountain for the USA. I knew it would take great faith! When I first talked to Dr. Cho, he said, "You have a BIG GOD, make sure it's a BIG DREAM!" The walls of prayer must be rebuilt in America, not just a whisper of a prayer, but the effective, fervent prayer of a righteous man or woman availed much. We need prayer that will change this nation! I believe God that one day; this Prayer Mountain will be filled with many people a day who believe in PRAYER!
I was able to take a small team to Korea, what a privilege to have had Dr. Cho, pray for me that God would give me strength to accomplish the vision of the Prayer Mountain.