Isaac Gomani, Director of Operations, A Touch From Above, Mission Africa. Dr. Luauna met Isaac Gomani on a missionary trip to Malawi, Africa in 2004. Having met a wonderful couple, Mr. & Mrs. Charles Trombley, who have dedicated their lives to build an orphanage and school in the middle of the bush of Malawi, they have 138 children.
I had the wonderful privilege to minister at a Bible Conference onsite to hundreds of ministers in the village of Amalika and throughout the surrounding villages. After struggling with the first interpreter, I noticed this young man, his name, Isaac Gomani. Between the breaks, I approached Isaac and asked him several questions, noticing he could answer somewhat clear, I told Isaac, "You are my next interpreter." What a blessing, we went together like a hand in a glove.
The following day, we were out throughout the villages, preaching and ministering and seeing thousands come to Christ. It was just the beginning of a wonderful friendship. Our meeting was the destiny of God for A Touch From Above, Mission Africa and for the future of Malawi.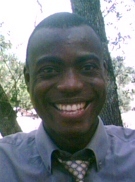 In 2005, I brought Isaac to San Diego, California and trained him for one year. Isaac and his wife Ruth have established our first satellite office in Blantyre, he is overseeing our operations there and is establishing the groundwork for Dr. Luauna's future missionary trips, and radio program in Africa, and to build a Bible college in Malawi. Isaac will translate sermons and the bible into Chichewa, the official language of Malawi. The Lord has chosen this young man and his beautiful wife Ruth, to be the front runners for our Mission Africa, reaching all of Africa for Jesus!
I'm always excited to see all the Lord has planned.